Getting Started With Chiropractic Care: Answers to Your Most Common Questions
Welcome to Precision Spinal Care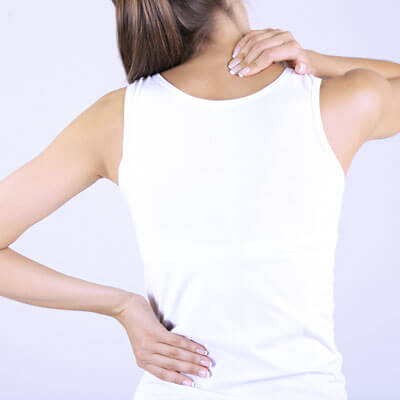 Don't have time to read this right now?
Download Guide For Free

If you suffer from spinal pain, you are not alone: back pain is the number one cause of debility worldwide. One of the top priorities for many people with back pain is finding an expert to help give relief.
Many people struggle to find something that works: back pain is the leading reason for doctor's office visits among people with musculoskeletal problems, and is the second most common reason overall to see a doctor. Back pain has also significantly contributed to the opioid crisis.
Fortunately, better treatment options are available. At Precision Spinal Care, my goal is to help you permanently improve your pain and spinal health, healing your spinal problems instead of simply masking the symptoms with drugs.
I've written this guide to help you better understand the options that are available to you in order to relieve your back and neck pain. Chiropractic medicine is a science, not a mystery. As a patient, you should leave every appointment knowing the full details of where you are in your course of care. This guide is the first step in your journey to resolve your pain.
About the Author
My name is Dr. David Packer, and I am a specialist in mechanical spine pain and trauma. I have owned and operated Precision Spinal Care since 2002. In my practice, I focus on NUCCA chiropractic, a safe and painless technique to relieve upper cervical spine problems.
As a board-certified NUCCA doctor, I have extensive training and certifications across multiple fields of spinal care, including:
I am a fellow in spinal biomechanics and trauma recognized through SUNY Buffalo Jacobs School of Medicine. Additionally, I serve on the Chesapeake Regional Hospital Foundation Board of Directors.
I am committed to helping other doctors improve their chiropractic care. To this end, I teach at NUCCA conferences and at Life University in Atlanta, Georgia, training both doctors and students in NUCCA care. I also serve on the NUCCA Board of Directors as the co-chair of the Education Committee.
1. How do I choose the right doctor or treatment for my spine related pain?
Many different types of doctors — ranging from primary care providers to chiropractors to surgeons — can help treat back pain. However, each type of doctor will generally work best at treating specific types of back pain.
For example, an orthopedic surgeon would be a good option for spinal stenosis, which may require surgical intervention. In contrast, a chiropractor would be an excellent choice for spinal imbalance, which can be treated noninvasively.
Your medical team, including your chiropractor, can help to triage you to the appropriate doctor to help address your pain.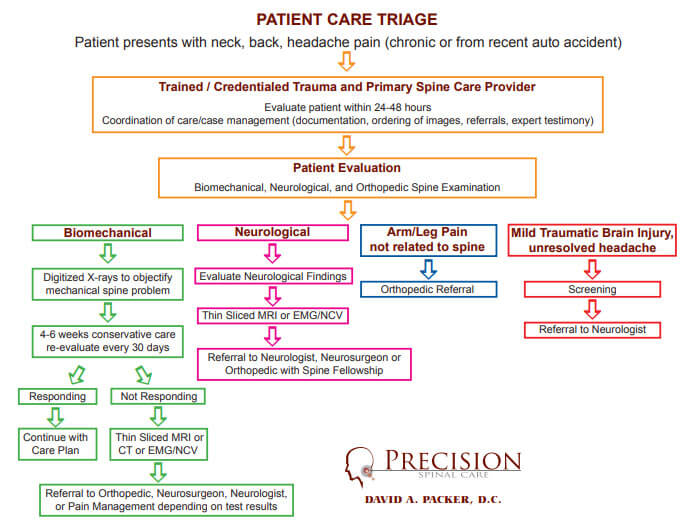 How do I choose the best doctor for my neck or back pain?
Should I see a chiropractor for lower back pain?
Treatment options for chronic spine related pain
Chiropractic versus physical therapy
When to avoid chiropractic care
---
2. 7 key features of how chiropractic helps people
At Precision Spinal Care, I focus on providing you with the best spinal care possible that is backed by medical evidence. Prioritizing your spinal recovery and pain management is my top priority.
What is mechanical spine pain?
How Precision Spinal Care helps with pain
NUCCA v. traditional chiropractic
How does NUCCA chiropractic work?
---
3. Does insurance cover chiropractic care, and what will it cost me?
It is common to be concerned about the possible costs of chiropractic care. Fortunately, many strategies are available to pay for care. Medical insurance may cover your chiropractic treatments, in addition to other programs like flexible spending accounts, discount medical plans, payment plans, and personal injury liens.
Does my insurance cover the cost of chiropractic care
How much does chiropractic care cost?
What payment options are available if I don't have insurance?
---
4. How long will it take for me to see results?
How long it will take for you to see results from your chiropractic sessions depends on multiple factors. This includes both the nature and severity of your spinal problem. For example, a person with a herniated spinal disc from degenerative disc disease will have a different spinal problem and course of therapy than a person suffering whiplash from a car accident.
You will likely not receive a treatment on your first visit to a chiropractor. However, you should receive a full evaluation, including a physical exam, review of your medical records, and imaging like X-Rays if appropriate.
After this evaluation, your chiropractor can help set your expectations about how long it may take you to notice improvement in your condition, as well as what goals of care you should expect.
Should I continue chiropractic care?
Should I get a second opinion about chiropractic care?
---
5. The Next Step in Your Chiropractic Care Journey
As with any medical situation, you need to feel comfortable with your doctor and fully understand the path to recovery you are on.
With any form of treatment you choose, have an open and honest discussion with your doctor about your medical history and any concerns you have about your treatment. When in doubt, ask questions.
You deserve to be informed about your own diagnosis and treatment.
At Precision Spinal Care I am happy to help you determine the best way to address your specific needs. If I can help, I will. If I determine it is best for you to see a different specialist, I will help you find a doctor who can address your needs.
To learn the cause of your pain and the best way to treat you, make an appointment with me and let's get started.
---
Patient Guide | (757) 382-5555